We understand how important it is for you to have your four-legged family member well looked after whilst you are away. We also know how hard it is to leave your much loved dog in the care of others, so we promise to treat them like our own dogs. All of our Puppy Playground staff care passionately about dogs and will give your dog all the love and attention they could possible want.
Puppy Playground Dog Boarding in Sydney has been designed especially for the comfort and happiness of small to medium sized dogs.
Our dog boarding facility in Sydney isn't a kennel. Our boarding guests
won't be locked up in small cages in a very stressful environment on their own. To provide your dog the best dog boarding experience in Sydney, we only take a small number of boarding dogs at a time and they will join our dog daycare dogs during the day. They will have plenty of toys, play equipment and fur playmates to play with under our careful supervision.
Each and every one of our dogs are behaviour assessed so that we can make sure your dog will have a great time with like minded dogs. We provide multiple large play areas, daily walks, professional and experienced staff, 24/7 video monitoring and a Veterinarian on call to ensure the safety and comfort of all of our dear guests.
We believe that no dog should be boarding in a huge dog boarding facility.
They can be very stressful and traumatising places for even the most confident dogs. The reality is that when you have large number of dogs together, the environment will be loud and the dogs won't have much room to stay in. If you don't pay for a private cage, your dog will be placed in a small area with multiple other dogs. But it's not just that! If a boarding kennel doesn't do behaviour assessments, there is no guarantee what kind of dogs your dog will be staying with. Therefore, your best friend might be spending your holiday with a bully. Does that sound like fun? We don't think so.
Every dog deserves lots of human interaction, cuddles and attention.
And every dog deserves to be left alone when they want to. That's why our loving staff will keep an eye on the dogs at all times supervising their behaviour. You don't get this kind of personalized dog boarding service in a huge dog hotel.
During the day your dog will roam free in our comfortable play areas with toys and other dogs.
For the night your dog will sleep in a smaller suite designed to keep your dog as comfortable and contented as possible in our dog hotel in Sydney. The sleep suite is spacious with comfortable flooring and an elevated bed to ensure a good night sleep.
And just like all our daycare dogs, our overnight dog boarding guests benefit from our fully air-conditioned boarding facility.
And above all, our dog daycare and boarding facility is always kept clean with professional kennel cleaning products!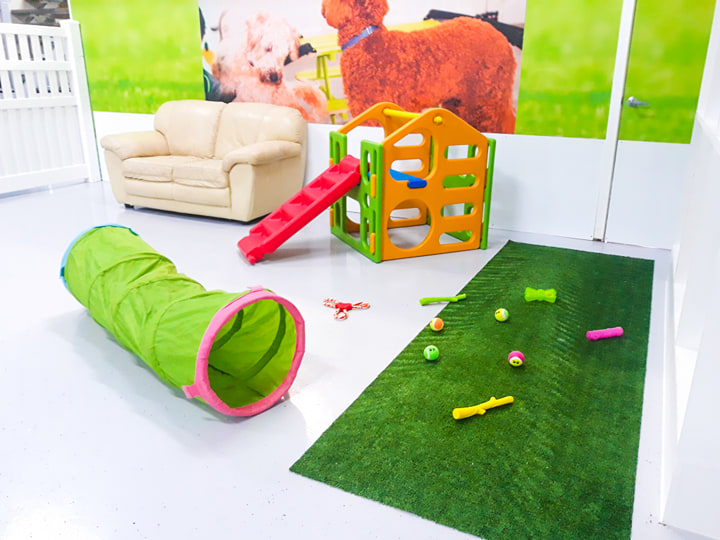 – All boarding dogs must be assessed before boarding.
Assessment is free. It needs to be done because boarding dogs will spend the day in our daycare with other dogs during their stay. Therefore, we accept only friendly, social dogs for boarding.
– 50% deposit must be paid in advance.
You can pay for this when you bring your dog for a free assessment. Balance must be paid on arrival to the boarding. And any extra charges must be paid when the dog is collected.
– All boarding dogs that are over 20kg must be desexed.
– Boarding dogs must be collected by 10 am or another boarding fee ($75) will apply.
– Saturday drop offs must be done by 1 pm.
– We are closed on Sundays, so there are no pick ups or drop offs.
However, if your dog is staying over for the weekend, you can collect him/her on Monday morning by 10 am.
– Owner provides food for the stay.
This is to prevent sudden changes in their diet that might cause diarrhea.