Getting dressed up in shimmery clothes, trendy henna designs for hands, chilling out with friends, creating beautiful memories with bridesmaids and family members, capturing pictures is all that a bride wants.
 But, apart from all these things, to have a perfect wedding, a bride always looks for the best mehndi designs and a beautiful dress that match her theme and impress her in-laws. 
Henna designs for hands play a significant role in every wedding as relatives, friends, and every person present looks at the bride's hands and comments on the design and the color of the mehndi. 
People interpret the love and bonding of the couple just by looking at the bridal's arms. They see the color of the henna and start commenting. Few keen observers in every wedding look at the details of the henna. On the other hand, a specific part of the crowd is busy eating and taking pictures. 
To impress the first kind of crowd and make oneself look more beautiful and stunning, one must be fully prepared. One must check all the little details, from makeup to hairstyle. From designer dresses to matching pairs of shoes. From the henna design for hands to the matching shade of nail paint.
We know how important these small things matter, and for that sole purpose, we have introduced you to some of the spectacular and eye-catching henna designs for hands, which every bride must consider. 
Simple and Classic design
Few people like to keep simple and subtle. We are first introducing you to one of the most classy and detailed henna designs. This is a sober design, which every bride can try. If you plan for a simple wedding or plan for court marriage, this design will best suit you as simplicity looks elegant. 
Chain Style henna designs for hands 
Another popular, elegant, and all-time trendy design is chain-style mehndi. One can choose this style, quickly write the better half's initials, and hide it in the chain style pattern. This leaves a personal touch on the henna and makes the bride smile and blush. You can add some classic figures and designs to this chain style and make them look more graceful. After all, an Arabic Mehendi is the one which is preferred by ladies of all age groups, as it looks modern and gives a decent look in western outfits as well. So, in case if you are looking for evergreen henna designs for hands, then you can surely go with this design. 
Peacock design henna designs for hands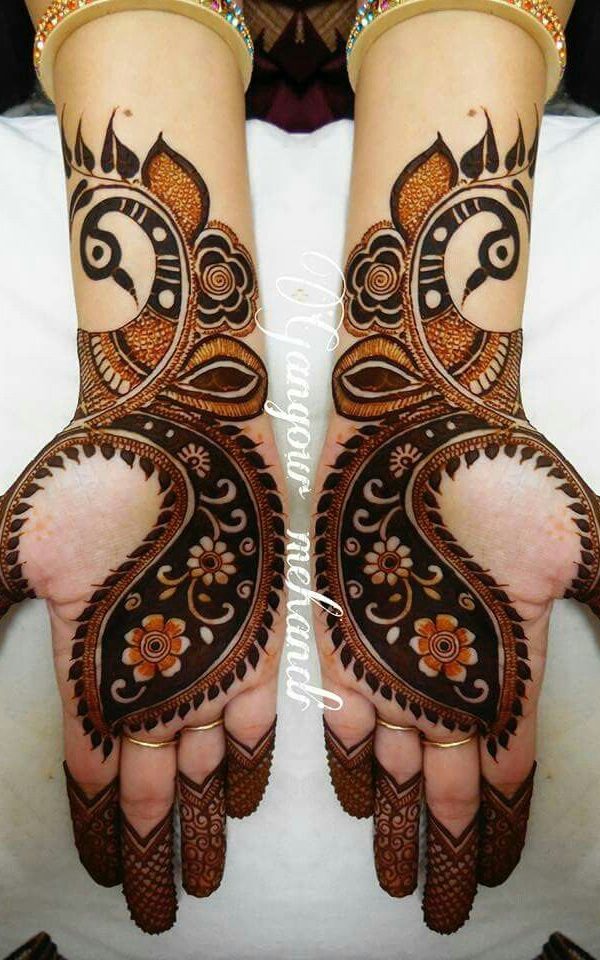 To give your hand a royal look, you can add the peacock design to your Arabic mehndi design. Combining the two will take your mehndi to the next level and add charm to your hands. Of course, you can add flowers and leaves on the tips or even add a chain design. These all options will complete the look and will make the design look good and sophisticated as well. So, one can surely try this mesmerizing design.
Indian Style henna designs for hands
As per the culture and tradition, few brides prefer to get every part of their hand covered with henna. For the same, they like getting an Indian design that makes their hand looks complete and classy. Even the photographs look good of the hand, with such Indian henna designs. Long nails complement the sophisticated and classic Indian style design.
The bride and the groom henna designs for hands 
With changing trends, brides prefer to get the name and the face of the groom or any male character on their hand. This is one of the trendy styles, which brides like for their wedding. The year 2021 has bought an evolution in every term, be it lifestyle or a wedding. To make the wedding a bit different, and for a change, brides are now paying more emphasis on this design. One can indeed consider this design and can make their special day more memorable. To this design, one can even write the names or encrypt the initials, to add a more personal touch to the plan. 
A Surprise: How to get dark stains Heena designs for hands?
These are popular and must-try bridal henna designs for hands. 
For all the brides to be, and other ladies looking out for the best bridal mehndi designs, allow us to tell you one more essential thing. 
These designs do matter a lot, but apart from this, people notice one other thing. Can you guess that? 
Well, allow us to tell you that one significant aspect, which you are forgetting. 
That is the color of the mehndi or henna. 
Every bride wants to look pretty on a special occasion, or rather on a life-changing day. For that, they prepare themselves a lot, in a lot many different ways. But generally, most of them forget about the color of the mehndi. 
Yes, the color of the mehndi does play an important role, and for that, you must perform one DIY or homemade remedy.
The remedy is pretty simple. You need to take lemon and sugar. Squeeze the lemon drops in a bowl, and add some sugar to it. Mix both the things until you get a liquid paste. Now, gently apply this to your hands, and leave it for few hours. This homemade remedy will make your henna look way much better and will give you a dark color. 
So, by following this simple tip, you can make your mehndi look prettier, and we are pretty sure that all your friends and family members would compliment you. 
The Bottom Line
We sre trying our best to make your special day more special by updating you with some of the classic and every green henna designs for hands for birds and by introducing the ongoing Mehendi trend with you all. We have also suggested one of the ways by which you can make the color of your mehndi darker. 
Thank you for reading this blog; we all wish you a happy married life!